Crete (Κρήτη / Kriti, occasionally spelled «Krete» in English) is the largest of the Greek islands and is in the Mediterranean Sea between the Sea of Crete and the Libyan Sea, south of the Peloponnese. Crete is approximately 260 km long and 60 km wide. Crete consists of four prefectures: Chania, Rethimno, Heraklion and Lasithi. If there was a beauty contest for Greek islands, Crete would surely be among the favorites. Indeed, some say there is no place on earth like Crete. This view is strongly supported by those fortunate enough to have visited the island. Crete, with a population of approximately 650,000, is not just sun, sea and sand; it is a quite distinct place full of vitality, warmth, hospitality, culture and of course an excellent infrastructure. Crete is well known for its seas and beaches but it has a very contrasting landscape. The island goes from fertile coastal plains to rugged mountains and from busy metropolitan cities to very peaceful hillside villages.
you travel throughout Crete you can clearly see remnants of Roman and Turkish aqueducts and architecture from when these people invaded the island long ago. You will also find ancient Minoan ruins around the island. While staying in Crete renting a car is strongly recommended, as there are many excursions which are really rewarding and relying on the public transportation can significantly degrade your experience.
Regions[edit]
Crete is divided in four prefectures. From west to east:
Chania Prefecture
Rethymno Prefecture
Heraklion Prefecture
Lasithi Prefecture
Cities[edit]
Heraklion (Iraklion or Candia) — the largest city and capital of the island, with the archaeological highlight Knossos. Not the most attractive city, as it was built haphazardly with little planning oversight. Although there are a number of attractive old buildings and churches, the Old Town has largely disappeared. The harbor (a major cruise and ferry port) boasts Venetian walls and a Venetian fort.
Agios Nikolaos — the charming capital of Lasithi Prefecture. Once known as a partying hot-spot for northern Europeans (especially Brits), it is today much more sedate, with only a handful of disco-type establishments.
Chania (Haniá) — largest city and capital of Chania Prefecture. Its Old Town is largely intact, and located both on the port side (another major cruise and ferry port) and the harbor side. The harbor boasts an old Venetian lighthouse (faros) and old Turkish mosque. Many of the Old Town structures are from the Venetian and Turkish period, including a few old Turkish hammans (Turkish baths). Souda Bay, just outside of Chania is an important NATO naval base.



Chersonissos (Hersonissos) — a charming harbor town in winter, and very popular with tourists in the summer. While there are many «party» spots, this town is more sedate and refined than its neighbor Malia.
Elounda — once a small fishing town, this is now the «jet set» area of the island visited by celebrities like Brad Pitt and Angelina Jolie, with many four and five-star resorts and exclusive villas. It's located on Elounda Bay with the abandoned Spinalonga Island, a former Turkish fortress and leper colony. The town virtually closes down during the winter, as do many of the smaller cities dependent of tourism.
Ierapetra — the southernmost city of Europe with some of the longest and finest sandy beaches on the island. Also site of an old Venetian fort.
Malia — Today, Malia has taken over as the «party capital» of the island, popular mostly with young (especially British) travelers, and with a fairly unsavory reputation for drunken tourists staggering around the streets and beaches until dawn. The town is filled with discos and music bars, as well as many restaurants catering specifically to tourist tastes, including Mexican, Indian, and British restaurants. There is even a McDonald's and KFC. Virtually all of these establishments arre open only during the tourist season.


Rethymno — capital of Rethymnon Prefecture, with a fascinating and well-preserved Old Town, which is a maze of lanes and alleys mostly reserved for pedestrians. The Old Town sits at the foot of a massive Venetian fortress.
Sitia — medium-sized harbor city on the eastern tip of the island, with access to some very unspoiled beaches. It has a very good sandy beach right in town near the harbor, which is lined with traditional tavernas. It is quite popular with French tourists, and there are direct charter flights during the tourist season. Ferries also put in here.
Other destinations[edit]
Samaria National Park — A breathtaking gorge in the southwestern part of the island in Chania Prefecture. A hike through the complete gorge takes five to seven hours, and is only for the physically fit. The park can be visited from May 1 through mid-October.
Lasithi Plateau — is a large fertile plateau in the mountains in the center of the Lasithi Prefecture. It is the site of numerous old stone windmills, which once provided the power and water for the agriculture that is based here. Some of these windmills are ruins, and some have been beautifully restored as private homes. These old windmills once provided a views of thousands of white sails carpeted the floor of the valley; active windmills today are powere by diesel and electricity.
Understand[edit]
Agriculture & Tourism[edit]
Agriculture is the most important industry of the island, although tourism is extremely important to the economy. The island has begun to rely on tourism more and more since the 1970s; many towns serve no other purpose, and virtually close down during the winter. There are only about 60 days of rain per year, and just about every single home and business is topped with solar panels. The west part of the island is more forested and receives more rain than the east. The entire island was once completely covered with forest, primarily cedar and pine. It has been largely deforested for firewood and to make room for the olive trees and vineyards.
There are many contrasts in this region, you can go from incredible beaches to impressive mountains, from big (and chaotic) cities to really small picturesque villages, from very dry, almost desert areas to very green zones like the springs in the center.
Upper & Lower Villages[edit]
Except for the major port cities and towns, settlements near the coast were built on the hills above the water. This practice dated to ancient times, and the purpose was for residents to be able to see pirates and other invaders from afar. They could then rush to the sea to challenge them or flee higher up in the mountains. Today, there are many settlements right on the water that began to develop as tourism exploded in the 1960s and 1970s. These new, lower villages are called «kato» (κάτω) while the old upper villages are called «epano» (επάνω). Most towns and villages, especially along the coast, will be in two sections — the upper and lower. When asking for directions, let them know if you are going kato or epano.
History[edit]
Crete was the center of the Minoan civilization, a sophisticated Bronze Age culture from 2600-1150 B.C.: the island bears witness to their achievements in the form of palaces, tombs and sacred sites. This civilization was so sophisticated that they even had a large navy. The Minoan decline was likely initiated by tsunami waves from the eruption of a huge volcano in Santorini, Greece in 1450 B.C. Towards the end of the Late Bronze Age, the Minoans were superseded by Mycenaeans from the Greek mainland. Thereafter, Crete very much followed in the classical mainstream of Greece and — much later — Rome.
Crete was invaded by Romans from 69-330 A.C. and this period of time plus the Byzantine era actually brought much wealth to the Island. The beauty and wealth of this time can still be seen today by mosaics and monuments around the island.
Crete was the site of an airborne invasion by German troops, and a spirited resistance by Allied (mainly British, New Zealand and Australian) troops and the people of Crete during the 1941 Nazi invasion of Greece. During this invasion many Cretans were executed for initially resisting the Germans and the cities of Chania and Heraklion were bombed so heavily that you may still see the destruction even today.
Crete history is very much related to famous myths like when the King of Crete, Minos, refused to sacrifice a bull to the Greek gods. Poseidon in turn forced Minos's wife to fall in love with a bull which created the mythical beast, the Minotaur.
Talk[edit]
The spoken dialect of Greek in Crete is similar to that of mainland Greece but it has some differences. The true Cretan dialect is spoken in pure form only in remote villages, although most native Cretans do know it.
The language used in Crete is Greek, although in the cities and tourist areas people have no problem understanding English. Even in small villages you usually have no problem for basic things like shopping or eating. Education is good on the island, and English is taught from the first grade. Additionally, tourism is important, so many people will speak English. The island welcomes a large number of tourists from around the world, especially northern Europe, therefore many in the tourist industry will speak other European languages. The menus in tavernas that cater to tourists are usually in several languages — Russian, French, Italian, English and German.
Get in[edit]
By plane[edit]
The island has three significant airports:
Nikos Kazantzakis at Heraklion. There are long term plans to replace Heraklion airport, which is too close to the city, by a new inland airport at Kasteli, southeast of Heraklion. It is a small airport located at the edge of Heraklion. Has basic facilities and a small parking lot.
the military airport Daskalogiannis at Chania. Chania airport is much smaller and far less busy than Heraklion airport. Located on the Northwestern part of the island and the airport is also known as the K. Daskalogiannis Airport.
a new public airport in Sitia. Sitia airport serves currently only a small number of domestic flights, mainly to/from Athens.
There are daily flights from Athens airport by Olympic Air [4]and Aegean Airlines [5](Which take about 45min.)to Heraklion and Chania. Sky Express operates flights from Athens airport to Sitia. During the months of July and August Astra Airlines [6] flies from Thessaloniki to Heraklion and Chania.
From April till early November charter airlines fly directly to Heraklion and Chania from many European airports.
Flights going from Heraklion and Chania to Thessolaniki take about 90 minutes. The airport at Heraklion also has daily flights to Rhodes which takes 1 hr. There are daily flights between Athens and Heraklion.
By boat[edit]
Crete has many ferry connections. You can go from Pireaus to Heraklion with Minoan Lines[7], to Chania with ANEK Lines or Hellenic Seaways, to Ayios Nikolaos and Sitia with LANE Lines.
NE also operates routes from Ayios Nikolaos/Sitia to Rhodes and other Greek islands. In the summer, there are daily catmarans (hydrofoils) from Heraklion to Santorini. The trip takes about 2.5 hours. Hellenic Seaways and SeaJets offer these sailings. You can also go to Crete by ferry from the Peloponnese (Gytheio) and Kythira island. This ferry lands on the west part of Crete, in Kissamos port.
The main ports in Greece that ferries come into are in Heraklion, Chania, Rethymno, Sitia, and Kastelli-Kassamos.
Get around[edit]
By car[edit]
Hiring a car is easy, as long as you have your driving license with you. Check, though, that the insurance is comprehensive, and make sure when you take the car that all previous marks on it are recorded so that you don't get charged for these! Insurance on hire cars doesn't usually cover the underside of the car, or damage to tires. Gas stations often close around 9PM, particularly in villages. Most gas stations expect you to pay cash — they serve you, so you can choose for them to fill the tank or put in gas to a cash value. On the National Highway, there are service stations, but they are often 30 miles or so apart — make sure you fill up with gas before bank holidays and Sundays when you may have more difficulty finding an open station.
Be careful when driving in Crete, as Cretans haven't got used yet as of driving in a more-than-one lane road (national roads were recently upgraded near Iraklion to two-lane roads) and will easily drive in the middle between the lanes, trespass the double-line or flash the headlights to drive you into safety lane for them to pass.
op signs are rarely respected by locals, and the best way to avoid accidents is to reduce speed to the point that you could easily stop the car and avoid collision whenever you approach a crossroad. Stay on the safe side legally in order to maintain your rights in case of accident. Despite the fact that most roads (including the new National Highway) are full of twists and turns through mountains, Cretans usually drive aggressively, fast, and on the edge of safety.
You need to have your wits about you while driving. Obstacles to look for are the ubiquitous quads rented out by tourists during the season, and motorbikes of all descriptions. In rural and mountainous areas (which is almost everywhere), there can be goats, sheep, donkeys, and stray dogs on the roads. Police periodically set up checkpoints, and will wave you over. Mostly they are looking to ensure your car is properly licensed and insured. Pull over, be polite, and speak your own language or English. If you are caught, drunk driving is severely punished — be smart.
Cretans drive on the right side of the road, which is excellent for most tourists. If you come from the UK or another left-driving country, you should take even more care.
rking is a challenge — especially in cities. You are better off finding the center, and parking in a pay lot and walking (most cities and towns are easy to walk around). In cities like Heraklion, you can easily receive an expensive parking ticket even if you park on the curb where many other vehicles are parked. Driving in cities and towns is also a challenge — the roads are narrow and it can look like a free-for-all.
Taxi services are another way to get around Crete, but can be quite expensive. They are, however, very accessible and you will find taxi stands in the center of virtually all villages, towns and cities. Greek taxis all work under the Greek State and the Taxi driver must always charge by the meter price which he must turn on as soon as you get into the cab. Taxi drivers are perhaps the most aggressive of drivers on the island.
There are 2 taxi tariffs in Greece: Tariff 1 is day hours ranging from 5:00am to midnight and Tariff 2 is night hours ranging from midnight to 5:00am.
Most major road signs in in both English and Greek. Usually, the Greek sign is first, followed by an English sign.
By bus[edit]
Public transportation is fairly frequent and timetables [8] quite trustworthy. Bus drivers usually divert from their marked routes to enter little villages if asked to do so. Bus services along the north coast and towards the south coast are excellent, reliable, frequent and cheap.
Most of these Bus services are run by Kino Tamio Eisproxeon Leoforon, KTEL, which are groups of families which individually run their own bus companies. This, in turn, creates a much more homely environment for Cretans and tourists and these families provide excellent service and show off their great deal of pride.
Cretan bus stations are very simple for the most part, except for in Heraklion which has two major Bus stations (one for buses going in town and one for KTEL run buses).
By ferry[edit]
Ferry services from Piraeus to Heraklion, Rethimno and Chania and from Thessaloniki and the Cyclades to Heraklion.
Since there are no roads along the southwest coast there is a ferry line,[9] with connections between Paleochora, Sougia, Agia Roumeli, Loutro and Hora Sfakion (Sfakia). There is also a connection with the islet of Gavdos, Europe's southernmost point (Cape Tripiti).
On foot[edit]
Although Crete is the largest of all Greek islands, you can get around on foot. Especially the countryside in the western part of Crete offers some rough country walking and there are good paths between Chania and Chora Sfakion. These go via forests with cypress, evergreen oak and cypress, various gorges and of course olive and orange groves. This part of Crete is good for walking holidays.
See[edit][add listing]
Crete is a large island with much to see and do. To see the highlights of the entire island will take about two weeks. To explore all that in more depth would take a good month. Distances (and driving times) from one highlight to another can be long.
Caves. The island is riddled with more than 3,000 caves. Some are quite famous, like the cave in southwestern Crete where St. Paul lived and preached after he was supposedly washed up on the island after a hurricane. Another famous (and very accessible) cave is the cave of Milatos. Milatos is a small village in the Lasithi Province, and the cave above the village is where villagers fled from the Turks in 1823. They lasted for almost two weeks, but most were eventually killed or sold into slavery. Inside the cave is a small white chapel and an ossuary containing the supposed bones of those killed. If you see a sign for a cave, give it a try. You should have sensible shoes and a flashlight.
Landscapes. Unless you stay only in an all-inclusive beach resort, you will have to drive places. This reveals the diversity and beauty of the Cretan landscapes. Tall mountains rise steeply from the sea and spectacular views of the sea are available from many points. Lush valleys and mountainsides support olive groves, vineyards, orange and lemon orchards, fields of artichokes, and olive trees. There are dramatic gorges and idyllic beaches. There are thickly forested areas and desert-like areas filled with exotic cacti and palm trees.
Monasteries. These are found all over the island. They are almost all marked by brown road signs, and almost all will allow visitors. If you pass by a sign, it is worth trying to go in. The structures are lovely, and there is almost always a small museum and a beautiful church with ornate frescoes and decorations. One of the most accessible and elaborate is the St. George of Selinari Monastery, located on the main National Road between Malia and Agis Nikolaos. Here is a very wide place in the highway with plenty of parking, and a souvlaki truck that provides quick snack for truck drivers and fresh barbecue for those with more time. There are clean toilets and a gift shop selling icons and religious articles. Above this is the monastery itself, which is a massive Byzantine complex.
Museums. World-class archeological, art, and historical museums are found in all the big cities, including Chania, Rethymnon, and Heraklion. But you will also find fascinating small museums even in the most remote small villages. If you see a sign in a small village that advertises a «folklore» or «traditional house» museum, give it a try. You are apt to be treated to a walk back in time to 19th and early 20th century life on the island, with lovingly preserved artifacts.
Ruins of ancient Minoan civilization. The Palace of Knossos in Knossos is by far the most extensive and famous, and the Archaeological Museum of Heraklion contains wonderful treasure. The ruins of Phaistos, Gortys, and the Palace of Malia Mallia are also impressive. But the island is covered with these treasures, and there are many hidden gems, like the ruins of Gournia Gournia. These sites (as well as historic monasteries and other sites of interest) are marked with brown road signs in both English and Greek.
Spinalonga Island. Located in the Elounda Bay in eastern Crete, this island is fascinating. It was a Venetian fortress that was later occupied by the Turkish. It was the last Turkish outpost of the Ottoman Empire on the island. In 1903, it was turned into a leper colony, which was made famous in the novel «The Island» by Victoria Hislop. The novel was later made into a television mini-series. In 1957, after a cure was found for leprosy, the island was abandoned. Today it is open to tourists, and provides a fascinating look at the architecture of all the periods and a look into the lives of the lepers who were exiled there.
Do[edit][add listing]
Ancient and sacred trees, Numerous locations on Crete. Explore Crete in a unique way. Take a pilgrimage around the island visiting sites where sacred and ancient trees still survive, some over 2000 years old. Each tree and location has a fascinating story to tell.  edit
Beaches. There are scores of beaches on the island. They range from small, stone shingle beaches to long stretches of glistening sand. You can camp on them or just visit for a few hours. Some are crowded, with umbrellas and bars, and some are totally secluded.  edit
Festivals. They happen often on Crete, involve a outdoor barbecue and traditional dance and music. Lýra is the dominant folk instrument on the island; it is a three-stringed fiddle, direct descendant of the ancient Lyre, which is held vertically, resting on the thighs of the player and is played with a bow like a violin. It is often accompanied by the Cretian lute (laoúto), which is similar to both an oud and a mandolin. The film Zorba the Greek helped to expand the audience for Cretan folk music; popularity peaked from about the middle of the 1970s to the middle of the 1980s.  edit
Horseback Riding, Kristy De Borger Zoraïda's Horse-Riding, 73007 Kavros Chania, ☎ +30 694 718 5656 ([email protected]), [1]. Horseback Riding is particularly available on beaches.  edit
Jeep Safaris, ☎ +30 289 703 1521 ([email protected]), [2]. Jeep safaris can take you just about anywhere to just about anything.  edit
Walking, [3]. Excellent experience of nature at its best.  edit
Eat[edit][add listing]
Crete is famous for its tasty and healthy cuisine. The Cretan Diet, which is also called the «Mediterranean Diet,» has been attributed with great health benefits and nutritional value. This healthy diet had relied heavily on fresh vegetables and fruits in season and fish, with meat served usually only once a week or on special occasions like weddings and festivals. Today, Cretans eat meat fairly regularly as well as processed foods and sweet confections
A good tip is to join any of the hundreds of traditional festivals in villages which offer food like barbecued meat, fried potatoes, salad, stuffed grape leaves (dolmades), wine. There is usually live music and dancing.
Olives & Olive Oil[edit]
The island of Crete is covered with olive trees. Virtually every family has at least some trees. The olive harvest season occurs in November and December, and every single member of the family helps with the harvest. Most villages have an olive pressing factory. Some villages even have very old presses with huge stone wheels that have been preserved for cultural value. Today's olive press factories are modern, but it is still possible to stop into one during the season to see the liquid gold being produced.
Olive oil is used in copious amounts for cooking and in salads, although most restaurants use sunflower or similar oil for cooking fried foods like french fried potatoes.
Olives themselves are commonly served as mezes with raki. They are an ingredient in many salads, and an olive paste is often served with bread.
Honey & Yogurt[edit]
There are also bee hives all over Crete, and many families make their own pure honey. Yogurt is often served as dessert with honey drizzled on it.
Cheese[edit]
Feta cheese is a Greek product protected by designation of origin in the EU. To qualify to be sold as true feta in the EU, the cheese must be made in a certain manner in a certain area (parts of mainland Greece and the island of Lesvos). However, it is produced and used extensively in Crete as it is elsewhere in Greece. It is served on salads, in particular the ubiquitous Greek salad. It is an ingredient in cheese pies and spinach pies, called «spanakopita.» It is also and ingredient in the traditional Cretan «dakos,» a hard bread rusk, soaked with olive oil and topped with crumbled feta, chopped tomatoes and olives. It is also served in bite sized portions drizzled with a bit of olive oil and served as one or more mezes (appetizers), usually servied with raki or tsikoudia.
You will also find a very good variety of delicious locally produced Cretan cheeses, such as:
Graviera: (Greek: Γραβιέρα) The standard hard cheese; there are many types and tastes. Taste before buying, as early cheese (cut before mature) will have a spicy taste, when a mature one will be salty and milk-sweet.
Myzitra: (Greek: Μυζίθρα) A fresh cheese made of ewe's milk. It is sometimes made of goat's milk (in which case it is called «katsikisia») or mixed milk. A good goat's one will taste like these expensive French «chèvre frais».
Anthotiros: (Greek: Ανθότυρος) from the words «anthos» (flower) and «tiros» (cheese) it is a very mild, soft spring cheese made when the sheep pastures are still full of flowers. The closest popular cheese is the Italian mascarpone as they are both high in fat and are both creamy in texture (unlike mozzarella which is high in protein and chewy in texture).
Meat[edit]
Snails cooked in various ways (one of the most traditional dishes of Crete), Smoked ham (apaki) and smoked sausages (loukaniko), traditional mountain goat or lamb cooked in various ways, cretan pilaf (chicken and lamb risotto served with goat's butter), souvlaki (pork meat, lamb, chicken or fish on skewers).
Side dishes[edit]
Dakos (Greek: Ντάκος — Cretan rusk with tomato, feta cheese, olives, oregano and olive oil), Horta vrasta (boiled greens with olive oil and lemon juice). Xoriatiki Known as the Greek Salad, Sheperd's Salad Salad with a east style twist, Salata Marouli Romaine Lettuce Salad, and Lahano Salata A traditionally tart cabbage salad are other types of Cretan salads.
Kotosoupa A chicken based soup with a lemon sauce Fakkes Tomato soup in a lintel base Fasolatha A hearty been soup in a tomato base Nisiotiki A hearty seafood soup
Restaurants[edit]
The Cretans themselves eat out late, after 10 or 11 PM, and often in a group. They prefer dinner in a good taverna, a small local restaurant offering the local cuisine. Most dishes are fresh from that day. The menu is only for tourists, Cretans ask the waiter for specialties, and have a look in the kitchen or in a 'vitrine', glass display case. Dinner is usually outside during the warmer months.
Fresh fish becomes more and more rare, and is expensive, priced by its weight. Restaurants and tavernas by law have to display if the fish that they offer is fresh or frozen. Thus, always ask your waiter to show you the fish and weight it in front of you before you order.
Tsatziki Famous cucumber dip that can go well with almost anything Taramosalata Cod roe-based dip Kalamari Deep fried squid Skorthalia Greek garlic mashed potatoes Gigantes Lima beans in a tomato sauce (can be spicy or not)
Bifteki Greek hamburger patties Souvlaki Sticks of meat served in or without a pita bread Fricasse Lamb and garden beans in a creamy lemon sauce Pilafi Greek style rice Psari A way to prepare Black Grouper or other types of fish Moussaka Famous eggplant casserole Greek people seldom have breakfast. They do enjoy a copious lunch.
There are options of cheap Greek fast food Called «gyropitta» by Cretans (mainland Greeks call it «giros pitta» as two separate words, and their definition is somewhat different as a single mainland Greece «giros pitta» is usually too small to replace a decent meal, instead of Cretan Giropitta which is bigger by far, having almost a serving of french fries added and with bigger pitta). As always, there are tourist-traps among those. Prefer those that locals do.
Drink[edit][add listing]
Tsikoudia is the predominant alcohol drink produced and consumed by the locals. This drink is also known as Raki and is made from the left over distilled wine. Tsikoudia alcohol precentage varies a bit, usual average is 20%-45%. It has a grapey taste and is usually served with some «meze» (accompaniments) like hard cheese, olives, cucumber or cold cuts. While «raki» is Turkish in origin, this is what the Cretans call it, and you are apt to be looked at strangely if you ask for tsikoudia.
Tsikoudia usually is a «goodbye gift» from many restaurants, that serve it along with dessert or fruit right after you ask for the bill. Most restaurants and tavernas follow this tradition. The quality (and alcohol content) of raki varies quite a bit. If you find a restaurant or taverna with good raki, it is perfectly acceptable to ask the owner if he will sell you a liter to take home.
Tsikoudia and raki production is strictly controlled by alcohol taxing laws, who permit production for a single 48-hour period each year, for which authorities issue licenses for distilleries operation. Many families make their own, but the majority is distilled in factories scattered across the island to which locals bring their grapes.
If you happen to fall within the period (August through November) and you are into local fiestas, try to visit a «rakokazano», which is local a tsikoudia distillery. This could be an experience to remember. Arrange for returning to hotel beforehand. Usually «rakokazano»'s are located away from tourist vacances, deep into the mainland near vineyards. Due to the nature of the event, tsikoudia production escalates to a fiesta, where freshly produced raki is tested, between feasts of unpeeled oven potatoes with olive oil or lemon and salt, lamb meat and wine. You are not expected to be sober after visiting one of those, but usually a local has to invite you along (and drive you home afterwards).
Although not as popular as in the mainland or the North Aegean islands Cretans also enjoy drinking Ouzo which is an alcoholic drink made by distillation of grapes. It looks milky when water is poured in, but it doesn't contain milk or derivates of milk! During the distilling process it is made with ginger, cinamon, aromatic seeds, plants, and fruits which give it a distinct taste.
Apart from local spirits, a great variety of wines are produced locally and sometimes from local ancient grape cultivars, and can escort supper or dinner. Most restaurants would serve varieties of local wines or even the restaurant owner's own production as «barrel wine.»
Youth can enjoy their booze at dancing bars, which are open till late along the coast line near tourist places, like in Malia and Hersonissos (30km from Iraklion) or Platanias (25km from Chania).
Sleep[edit][add listing]
Types of Lodging[edit]
There are hundreds of various types of lodging possibilities on the island. Representative examples of each type are listed in each category. Credit cards are generally accepted at most of the mainstream properties. Many properties will offer a discount if you pay cash. Some private homes may have a PayPal or similar method of payment, and the currency is often in that of the owner's native country (UK pounds, for instance). Very small hotels and «rent rooms» may accept only cash. Almost all properties will be happy to assist with sightseeing questions, tours, and can help arrange for a licensed guide for certain sites.
Apartments & Aparthotels.[edit]
There is a plethora of these types of accommodations, ranging from a a single apartment you can rent directly from an owner to more sophisticated aparthotels. The latter usually have cooking facilities in the rooms/suites, a small restaurant (breakfast often included) and bar, laundry facilities, a swimming pool and free WiFi.
Hotels[edit]
These range from simple two-star to lavish five-star properties with all the amenities and facilities you would expect of a world class hotel. There are city hotels, business hotels, and beach resort hotels. There are also a number of all-inclusive resorts with all the bells and whistles to keep visitors on the property. The latter are promoted heavily in northern Europe as part of package holidays that include everything, including air fare. Should you choose one of these, it is highly recommended that you rent a car and venture out into the countryside a least a couple times during your stay in order to experience the unique culture found in small hidden villages and not in the crowded/touristic places.
Villas & Private Homes[edit]
You will find numerous villas and private homes available for rent all over the island. These range from small one-bedroom «cottages» to very lavish multi-bedroom villas with swimming pools and hot tubs. Some are offered privately by owners, and some are developments of two, four, or more detached villas. There is a large full-time and part-time expat population (mostly from northern Europe) on the island. Some full-time residents rent out their homes during the tourist season. Many part-time residents will rent their homes during the time they are away. These villas invariably come fully furnished and with all the dishes, linens, towels, etc. that you need for a week or two. Many will have free WiFi.
Rooms[edit]
You will see «Rent Room» signs just about everywhere you go. These are rarely advertised on the Internet, and you usually can only make advance reservations if you have someone local make the arrangements for you. When you see a place you might like, just go in or phone the number on the sign. Always ask to see the room before you seal the deal. These are usually simple rooms for sleeping, although many will have basic cooking facilities (microwave, hot plate) and a mini fridge.
There are many holiday specials for villas in Crete.
Cope[edit]
Travelers with Physical Disabilities[edit]
Since entering the European Union, there have been some efforts to make access for the disabled easier. However, a combination of factors has made this far from comprehensive. The major factors are the topography of the island, the nature of its most import sites, and the economy. Many hotels and other types of accommodations are in historic buildings, without elevators and often with many stairs to various facilities. This is especially true in small villages, and in the Old Town sections of cities. Getting into most public establishments (and to the toilet, once you're in there) usually means stairs.
Historic sites like the ancient ruins of Knossos will be very difficult to fully explore for those confined to wheelchairs and who have difficulty walking, although many of them (including Knossos) have significant sections that can be explored to create a rewarding experience. The Old Towns of cities (like Chania) and small mountain villages are hilly, often with steps from one area to another. Nonetheless, there are still places in most of these that can be explored. A wheelchair-bound person or one with walking difficulty will not be able to see everything, but they can still see a rewarding amount of things.
Most government buildings, hospitals, museums, and office buildings in cities and large towns have elevators and wheelchair ramps. You will also find wheelchair ramps at many restaurants and hotels in areas that cater to tourists. Virtually all of the four and five-star hotels have ramps, elevators and/or handicapped accessible rooms and facilities. Sidewalks in cities and larger towns will have ramps at intersections. Even able-bodied travelers should take care whenever crossing a street, as cars rarely stop for pedestrians in crosswalks — although they usually stop at red lights.
If you have physical difficulties with walking or are confined to a wheelchair, it is important that you research your prospective lodging carefully and ask clear questions. Ask the advice of people who live on the island or go on one of the expat forums to get questions answered. Even with the obstacles that exist, it is possible to enjoy a rewarding visit.
Smoking[edit]
When Greece entered the European Union, smoking was also addressed — sort of. «No smoking» signs are required inside all restaurants, bars, and tavernas. You are entirely likely to see the owner sitting under one of those signs and smoking, as well as many of the patrons also smoking. The main tourist season is during warm weather. Virtually every eating and drinking establishment has an outdoor area. People will be smoking in those areas, but at least you are outside. Better hotels and restaurants will enforce bans, and better hotels will have non-smoking rooms.
Sunbed businesses on beaches[edit]
According to Greek law, beaches are public territory where sunbed and umbrella rentals may occupy not more than half of beach space. If you come to beach early and have the nerves, demand the sunbed owner to vacate place for you, or do it yourself.
Источник: wikitravel.org
Остров Крит — одна из периферий (административных регионов) Греции, в свою очередь она подразделяется на четыре главных курортных района — Ханья, Лассити, Ираклион и Ретимно.
Ханья
Ханья — один из самых важных туристических центров Крита, занимающий западную оконечность острова. Он славится уникальной старинной архитектурой, чистейшими пляжами, отмеченными Голубым флагов, большим числом природных достопримечательностей, среди которых — Белые горы, рассекаемые одним из красивейших ущелий Европы — Самарийским, розовые пески Элафониси, пещеры и заповедники.
Главным городом региона и вторым по величине на Крите является Ханья, сочетающая в своей архитектуре наследие Турции и Венеции. В Ханье можно часами бродить по узким улочкам и живописным набережным, любоваться старинным центром и гаванью, посещать соборы и музеи. В 43 км от города на плоскогорье Омалос расположено одно из самых интересных геологических образований острова — Самарийское ущелье, входящее в состав нацпарка Лефка-Ори.
Среди местных курортов упоминания заслуживает Агия Марина — курортный посёлок, турпоток в который год от года растёт. Он привлекает гостей золотистым песчаным пляжем с чистейшей водой, отмеченным Голубым флагом, Старым центром с небольшими храмами, пещерами и расположенным неподалёку островом-заповедником.
Ещё один курорт — Платаньяс, он более шумный и яркий, с активной ночной жизнью. Днём туристы отдыхают на отличном местном пляже, также удостоенном Голубого флага, а вечером развлекаются в клубах, ужинают в ресторанах и тавернах.
Палеохору выбирают туристы, предпочитающие спокойный семейный отдых, а также любители экскурсий. Здесь есть два отличных пляжа, от пристани ходят паромы к соседним курортам и островам. Неподалёку находятся остров Гавдос и знаменитое Самарийское ущелье.
На юге региона, в 15 км от селения Хора-Сфакион, можно увидеть достаточно хорошо сохранившуюся венецианскую крепость Франгокастелло.
В регионе Ханья находится и Элафониси — уникальный остров, знаменитый своим розовым песком, чистейшей водой бирюзового цвета и живописными ландшафтами.
Ретимно
Ретимно — ещё одна область Крита, расположенная в центре острова, в горах. Она подойдёт тем, кто планирует совместить пляжный и культурно-познавательный отдых: тут есть достопримечательности на любой вкус, интересные природные объекты, прекрасные пляжи, протянувшиеся вдоль побережья Ретимно на более чем 16 км и награждённые Голубыми флагами за чистоту.
Столицей региона является город Ретимно, славящийся древней историей, множеством исторических мест и отличными пляжами. В городе стоит увидеть старый центр и старую гавань, крепость Фортецца, Аркадийский монастырь, монастырь Превели, некрополь Армени, археологический и историко-этнографические музеи, венецианские порталы и живописную набережную. Этот курорт подойдёт также тем, кто любит шумную ночную жизнь, и путешественникам-любителям событийного туризма: в городе проводится масса интересных концертов и фестивалей, о которых можно почитать в статье «Чем заняться в Ретимно».
Курорт Бали считается одним из самых красивых на Крите. Он расположен на берегу четырёх бухт, находящихся в окружении крутых скал. Здесь прекрасные пляжи и масса рыбных ресторанчиков, в которых подают свежайшие морепродукты. Поскольку отсюда недалеко и до Ретимно, и до Ираклиона, курорт пойдёт и любителям экскурсий, и желающим насладиться спокойным отдыхом у моря.
Ещё один живописный курорт — Агия Галини, небольшой посёлок, расположенный на самом юге Крита. В посёлке имеется старинная гавань, узкие улицы с белыми домиками, увитыми цветами, в окрестностях — пещеры, притаившиеся среди скал, и широкие пляжи.
Ираклион
Ираклион — самый главный курортный регион Крита, расположенный в его центральной части, тут находятся одноименная столица всего острова и большинство популярных курортов и достопримечательностей Крита.
Город Ираклион сочетает в себе славное прошлое и яркое настоящее Крита. У столицы очень удачное расположение — добраться сюда из разных концов острова можно в среднем за час, и это обязательно нужно сделать хотя бы для того, чтобы познакомиться с его богатейшим историческим наследием. В Ираклионе находится один из крупнейших в стране музеев — Археологический музей, а также крепость Кулес, кафедральный собор святого Мины и собор святого Тита, старая гавань и многое другое. А в пяти километрах юго-восточнее Ираклиона расположен древний Кносский дворец, построенный в минойскую эпоху и бывший культурным и политическим центром острова.
Малья — самый «тусовочный» курорт Крита, город, который никогда не спит. Сюда отправляется молодежь, чтобы весело провести время на вечеринках у моря, на дискотеках и в ночных клубах. При этом чистейшие местные пляжи заслуживают отдельных похвал. В окрестностях курорта располагаются развалины Малийского дворца минойской эпохи.
Курорт Херсонисос хорош для семейного отдыха: здесь находятся крупный аквапарк Star Beach Waterpark, который наверняка понравится отдыхающим с детьми.
Источник: www.tourister.ru
Crete is the largest of the Greek islands. Crete consists of the island itself as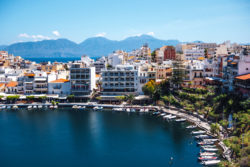 well as a number of surrounding islands and islets. The largest city and capital of Crete is Heraklion.
The first human settlement in Crete dates back 130,00 years ago during the Paleolithic age. It is known that during the aceramic Neolithic age in the 7th millenium BC used dogs, pigs, goats, sheep, and cattle. They also had domesticated cereals and legumes. Crete was the site of Europe's first advanced civilization: the Minoan civilization. Legends of King Minos, Theseus, and the Minotaur come from this early Crete history. It is thought that the downfall of the Minaon civilization was the eruption of Thera. The Minoan civilization was overrun by the Mycenaean civilization in 1420 BC. Crete went through many different rulers including: Roman rule, Arab rule, Venetian rule, and Ottoman rule. The Cretan Revolt (1866 – 1869) was a three-year uprising against Ottoman rule. Repeated uprisings would occur over the years and in 1908 Cretan deputies declared union with Greece though this wasn't officially recognized internationally until December of 1913.
Crete has a rich mythology that is connected to the Minoan civilization and Greek gods. Greek mythology says that Zeus was born at the Diktaean Cave at Mount Dikti, the goddess Athena is said to have bathed in Lake Voulismeni, and goddess Artemis and god Apollo were born at the Paximadia Islands. God Zeus, in trying to protect the island of Crete, would throw a lightning bolt at a giant lizard. This lizard would turn to stone and become the island of Dia.
Throughout the modern period, Cretans have made important contributions to Greek literature. They have their own poetry called Mantinades. There is also Mantinades-based music.
Administrative Region of Crete Island, Greece
Crete region
Area of Crete Island, Greece
8,335.88 km2 (3,218.50 sq mi)
Population of Crete Island, Greece
600,000
Top Attractions of Crete Island, Greece
Gramvoussa Castle – Located near the city of Chania. The history of the castle dates back to the 16th Explore the fortress and the views offered.
Istro Beach –  This beach is found near Lassithia. Blue water and fine sand make this beach enjoyable, not to mention the how beautiful the area is. A family friendly and organized beach.
Venetian Harbor – Located in the northern part of the island in Rethymno. Tour the old town district and historic castle. Harbor also features a historic lighthouse and old stone walls.
Historical Museum of Crete – Located in Heraklion. Artifacts and art from early Christian era to present. Museum also features two El Greco paintings and Venetian gold jewelry.
Vai Beach – Found on the eastern side of the island. This beach features Cretan date palm trees and sandy shores. A secluded, well-maintained beach with snack bars and coffee spots on site.
The Palace of Knossos – The largest and most well-known of the Minoan castles on Crete. One of the seven ancient wonders of the world. Explore the grounds on your own or take a guided tour.
Minoan Castle – Located in the south-central area of Crete. The smallest of the four palaces on Crete. Great place to learn about Minoan civilization.
Heraklion Archaeological Museum – Features treasures uncovered at Knossos. Artifacts date back 3,000 years. One of the top exhibits is the frescos.
Moni Preveli Monastery – Was once the center of the anti-Ottoman resistance. Burned by the Turks in 1866. Also served as a shelter during WWII for Allied soldiers after the battle of Crete.
Preveli Beach – Located below the Moni Preveli Monastery. Palm-lined river banks and clear freshwater pools. This beach sits at the mouth of the Kourtaliotiko Gorge.
Источник: www.greekboston.com